There are many ways to position knobs and pulls on cabinetry, and they're all equally valid. It's a matter of your personal preference. If you're an artist, feel free to toss all the rules out the window. Here are some images of common ways to position pulls on drawers: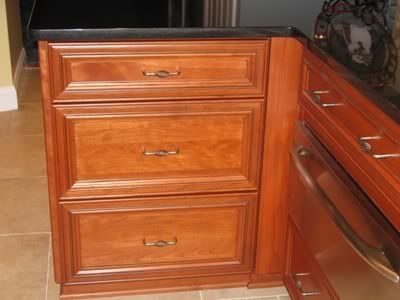 Drawers:
Cabinet pulls are horizontal, never vertical, on drawers. If it is a long drawer and you are using two pulls, place them so that when you put your arms at your side, they are about the same distance apart, or slightly wider.
I never see pulls near the bottom of a large drawer face because it requires us to do more bending. There are two common approaches for positioning them:
Option A: All pulls halfway between top and bottom. This is the more traditional approach, and is especially appropriate for short pulls and drawers with decorative borders.
Option B: All pulls the same distance from the top. This is most appropriate for long pulls. Decide on the distance by deciding what looks best on the most shallow drawer. If your drawers have a wide border panel, you can center the pulls on the top panel.
Knobs are always centered on drawer faces, for ease of pulling.
Let's move on to doors.
Doors:
I think pulls should always be placed vertically on doors so that your hand doesn't twist when pulling the door wide open. But I have seen them placed horizontally to stylishly match the horizontal alignment on the drawers. They should be close to the edge that is farthest from the door hinges. Position them close to a corner, the corner that is closest to your waist.
Doors with wide decorative borders: Pulls should be placed so that one screw is nearly at the same height as a corner of the inner rectangle, and the pull should be centered on the border panel. Do not follow this rule if the border is very skinny. Knobs should also be placed around the same location.
With no decorative border, there is more freedom, but consistency is key.